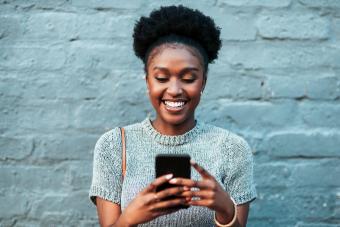 If you and the person you're interested in both swiped right, you have officially matched on Tinder and can begin chatting. While this can be super exciting, it can be tricky to know how to start a conversation on Tinder and make a good first impression.
How to Start a Conversation on Tinder
Wondering what should I say on Tinder?
Be kind and considerate- remember this is someone you haven't met before and it's always best to err on the side of being overly respectful versus making someone feel uncomfortable.
Keep in mind that saying something in person reads differently than a chat message.
Stay true to your personality- don't pretend to be someone you're not or you may miss out on connecting with someone who genuinely likes your personality.
Be honest about your relational needs to ensure that you and your match are the best fit for each other.
Unfortunately, rejection is part of the dating process, so try not to be hard on yourself and remember that everyone is attracted to different personalities and traits.
How to Start a Conversation on Tinder Without a Bio
If the person you matched with doesn't have much information on their profile, you won't really have a ton to go off of. Think of it this way- they matched with you for a reason. What does your profile say? Use your own bio as a way to connect with them.
If you mention you love to read: Hey! It's nice to meet you! Have you read anything interesting lately?
If you mention you love to travel: Hi, so great to meet you! I'm super into traveling and am hoping to find someone else who enjoys it too! What's your take on traveling?
If you mention you're a foodie: Hi! I'd love to get to know you more! I love trying new restaurants and am always up for tasting new cuisines. What's your level of food adventurism?
Straightforward Tinder Opening Lines
Try these Tinder message examples if the person you matched with has a bio:
Hey! It looks like you're really in to hiking. I love hiking too! Where's your favorite spot to go?
Hi, nice to meet you! I love that you wrote must love dogs in your bio! I have a dog too and love taking her everywhere with me. When did your love of dogs begin?
Hi! I noticed that you're really into cooking and trying out new recipes. I really enjoy cooking as well. What's the best thing you've made lately?
Know the Difference Between Flirting and Boundary Violating
When it comes to chatting versus in person communication, it's critical that what you write reads as appropriate. Even if you're joking, something written can come across as significantly more offensive to someone who can't read your body language.
Flirty: It's so refreshing to meet such a genuine and kind person- I'm feeling pretty lucky that our paths crossed!
Boundary Violating: You're super hot- you have to meet me- I won't take no for an answer.
Make an Observation
Making an observation is a great way to initially connect with someone. While it can be nice to pay someone a compliment based on their appearance, try to find a deeper way to connect with them.
It looks like we're both into foreign films. Have you seen one that has truly captivated you recently?
I love that you're an artist! Your work looks incredible! How long have you been painting?
Find Your Common Ground
If you match with someone who shares a similar interest, hobby, or career, it's great to point that out. Common ground can make connecting with someone a bit easier and gives the conversation direction.
Hi! I noticed that we are both lawyers (I'm an environmental lawyer). What type of law do you practice?
Hey! It looks like we've both gone back to Costa Rica quite a few times. I absolutely love it there! What has drawn you there?
Hi! It's so nice to find someone else who is interested in surfing! How often do you surf?
Use Open-Ended Questions or Statements
Making a statement or question that leaves room for the person you matched with to respond in a non yes or no answer is a great way to get the conversation between you two started.
Based on your profile, you're someone I'd like to get to know better. What kind of relationship you are interested in?
Hi! I'd love to know how you got your start in marine biology. That's a field I've always been interested in!
Be Honest About Your Personality
When you're up front about who you are, you are more likely to connect with someone who you are compatible with, regardless of the type of relationship you are looking for.
Hey! I'm normally more reserved when it comes to initiating the conversation first, but I knew I'd regret not reaching out to you. I love that you are so dedicated to your volunteer work. Can you tell me a bit more about that?
Hi! Glad to meet you! Based on your profile, I'd love to get to know you more! I'm looking for a long term relationship. What type of relationship are you looking for?
Can You Message Someone First on Tinder?
If you both swipe right, you both have the option of messaging each other first.
How to Start a Tinder Conversation
When messaging someone on Tinder, remember that they are already interested in you because you both needed to swipe right in order to be able to chat. When it comes to making a good first impression, don't put too much pressure on yourself, keep your message short and to the point, and be yourself. A compatible person who is attracted to you will respond best to you being genuine.