With only a few minutes to be able to make a lasting impression and form a potentially lifelong connection, everyone needs all of the speed dating tips they can get. Since 1999, when Rabbi Yaacov Deyo transformed traditionally Jewish, chaperoned singles events into modern speed dating, these fast-paced meet-ups have become something of a legend among the dating world. Yet, online speed dating has helped keep the practice alive in an increasingly virtual world, and these tips should help you win at whatever lightening-round conversation you get yourself into.
What Exactly Is Speed Dating?
Speed dating has evolved over the past few decades to become synonymous with both honesty and humor. From fictional speed dating hijinks to the couples who actually make a life together after meeting each other through speed dating, the mythos of speed dating has come to represent a much larger idea than just the short conversations that actually comprise the event. Simply, those who go speed dating generally attend because they're looking for a serious relationship and want to skip past the awkward first few dates where couples spend time agonizing over if they're coming on too strong or not revealing enough. Speed dating is all about cutting to the chase, but you don't want to cut corners when it comes to figuring out the perfect ways to keep a person hooked.
Surefire Speed Dating Tips
Here are ten different speed dating tips to help you expertly navigate your next round of rapid fire meet-ups.
1. Choose the Right Outfit
First impressions may be overrated, but when it comes to speed dating, they're incredibly important since you only get a few minutes with each person. Therefore, you want to make sure that you're picking clothes and accessories that you feel the most comfortable in and think show off your personal sense of style. This way, your dates will get an immediate taste for who you are when they first see you.
2. Be Honest
You may feel tempted to exaggerate about stories from your life to make yourself sound more interesting; it's understandable to want to catch someone's eye within the first 30 seconds of knowing them. However, intentionally fabricating aspects of yourself isn't going to set a great precedence for any future dates when you have to try to keep the lie alive; so, make sure to be truthful about all the wonderful things that make you, you.
3. Come Prepared
Preparing for a speed date might make you feel like you're studying for an exam, but it's important to have your 'greatest hits' at the forefront of your mind. Seeing as you only get a few minutes with each person, you want to come with your best stories and quirks at the ready. This way, you won't spend half of your time sputtering through the first answer that pops into your head.
4. Don't Try to Check the Boxes
Many people are drawn to speed dating because they're looking for a more lasting connection; however, with this intention to settle down and find the 'perfect' partner can come the desire to wait for a person who 'checks' all of your boxes. Unfortunately, you can easily sabotage a date by going into it with this intention, so it's best to hold off on asking the hard hitting computability questions until you've known each other for more than ten minutes.
5. Practice Makes Perfect
If you're feeling nervous about making connections with new people, an easy way to absolve some of those jitters is to practice. Find a friend or loved one who can go over a few simple questions with you so you can practice your responses; once you feel secure in your answers, you should start to feel less anxious about the potential of going off-book.
6. Have a Winning Hook
You won't be the first one to start every conversation during a round of speed-dating, but chances are that you'll have to start at least one. So, you should come ready with an interesting question or funny story to immediately launch into. The aim of the hook is to make sure the conversation starts off with a bang; that way, you'll be remembered long after your time's been up.
7. Show up Sober
While you may be tempted to dampen some of your nerves with alcohol or other substances, doing so can make you less in control of your responses and a potentially bad date. Of course, you know your limits and having one drink before a speed date isn't going to hurt your chances of finding the 'one,' but showing up plastered and vomiting in the bushes outside the venue very well might.
8. Be Engaged
Speed dating can be incredibly overwhelming; multiple couples all trying to have timed conversations with one another while navigating the room can either turn into a well-oiled ship or a disastrous shipwreck. The key thing to remember is to stay engaged with the person you're talking to. Make sure to listen to what they're saying and ask for more details where it's appropriate. It's okay to occasionally get distracted by the hubbub of the world around you, but don't spend your entire session listening to another couple's conversation and not making your own.
9. Save the Bedroom Talk for Later
Generally, people aren't opting for speed dating to try to find an immediate sexual partner, nor are they wanting to discuss their likes and dislikes within the first thirty seconds of a conversation. Although these are important things to discuss with a partner, it's best to wait until you've both decided you're interested in learning more about each other before you reveal your most intimate secrets.
10. Have Fun
Remember that there isn't any pressure to meet your soulmate or to make a lasting connection with anyone when you attend a speed dating session; really, you should remain focused on having good conversation, enjoying new people's takes on the world, and hopefully getting a few laughs along the way. So, most importantly, don't forget to have fun.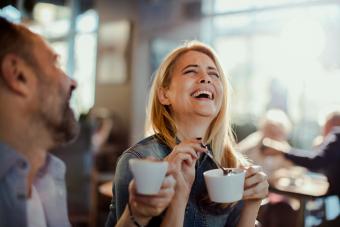 Virtual Speed Dating
Unsurprisingly, the internet has become a marvelous place for the way it allowed speed dating to become virtual. Virtual speed dating is very similar to the common practices of perfecting your Zoom background and picking the best above-the-waist outfit; finding available chat sessions is as simple as looking through a search engine for hosts that fit with your values and desires. Of course, dating websites and apps are better suited for some singles out there, but if you're not interested in committing a lot of time to swiping or chatting, virtual speed dating is a great option for you.
Speed Dating in the Modern World
Speed dating tends to bring together people who are serious about finding a lasting relationship and don't have to energy to scroll through another series of dating profiles online; and, the best part is that you're only committing yourself to ten minutes of someone's - and your own - time.