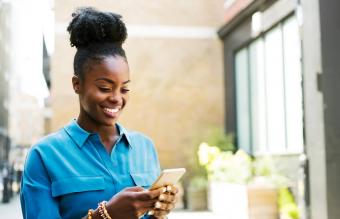 A lot of meaningful relationships can be formed online or through dating apps that include chat rooms for singles. Although it may seem intimidating at first to decipher if the person you're chatting with is right for you, with a little practice, you'll be an online dating pro in no time.
Good Beginner's Chat Rooms
Chat rooms are a great place to begin if you're just entering into the online dating world. Some chat rooms offer one on one dating chats, while others allow you to enter into conversations with several singles at once.
Camfrog
This site can be downloaded as an app or used online. They offer thousands of options when it comes to singles chat rooms and they also allow video chatting. This site is great for beginners because it is super easy to login, is offered for free, and they have a great feature available for individuals who identify as deaf or have hearing difficulties.
YesIChat
This chat room can be used on your mobile device or computer and is completely free. Simply enter in the name you'd like to go by and join their singles or dating chat room. This is a great site for beginners because it is easy to login to, the interface is very intuitive, and there are several dating and singles rooms available offering you access to people from all around the world. You can also choose to chat privately with someone or participate in a group chat if you're a bit shy and want to test the waters.
321 Chat
This site is super easy to use and is offered for free. You don't need to register or sign up to join a chat. You can chat with singles in a group format and also request to chat one on one with someone that you'd like to get to know a bit better. 321 Chat is great for beginners because you can enter a chat room right away, can opt to chat with locals in your area, can keep your information private, and can request to chat with anyone who you connect with during a group chat. This site also offers tips for meeting potential dates or partners online.
How to Use a Chat Room
When you first log into a chat rooms, you will be asked to pick a username that will identify you during chats. Choose either a nickname or your first name, but don't give away your full name so you can maintain your privacy. Keep in mind:
Mobile chat rooms will need to be downloaded on your device and you may need to agree to the site's terms before using the app.
If you are using an app, they will most likely offer a help page or quick tutorial to assist you in getting started.
Apps may ask you if you'd like to allow notifications. If you agree, your phone may vibrate, make a sound, or show messages on your screen. If you'd rather keep messages private, don't allow notifications and just check in with the app every once in a while if you'd like to see what's going on with your favorite chat room.
After entering the chat room, you will see conversations that are already taking place. You may see ads once in a while, such as someone who posts the same message repeatedly at set time intervals. It can be confusing and even disorienting at first, so take some time to see what everyone is talking about by just observing.
Safety in the Chat Room
One problem that many people can encounter with singles chat rooms is you really don't know who you are talking with. With this is mind it's critical to prioritize your safety and privacy just as you would on a first date.
Be mindful to keep your address, social security number, phone number, credit card numbers, and bank accounts all private. If someone requests any of this information, it is most likely a scam and their screen name should be immediately reported to the site or app. You can also block them from contacting you.
Meet New People
The anonymity of a chat room can be incredibly freeing. If you tend to be on the shy side, getting to know someone through an app or dating site is a great option. Be mindful of keeping your personal information safe and enjoy getting to know other singles.