17 Romantic Evening Ideas to Ignite a Spark
Whether you are new to dating or have been married for years, everyone can use some ideas for creating a romantic evening. Other commitments can easily push romance aside, so don't let that happen! All you need are some romantic ideas to have a fabulous night.
Spending a Romantic Evening at Home
A quiet evening at home might be just the ticket to a romantic interlude. You can keep it simple, or you might choose to spend money on a few extravagances to help you pull it off.
Dinner for Two
A romantic dinner is always popular and very effective at creating romance. You can cook your partner's favorite meal, or have the meal catered and brought to you. Setting the mood is equally important as the meal you prepare, so plan on some candlelight and bring home some roses to scent the air.
Slow Dance to Your Favorite Love Songs
Gather all of your CDs to make the ultimate love song CD. Choose the ones that remind you of your sweetie, as well as all the special moments you've shared together. Play it at a low volume, light candles around your living room, dim the lights, and hold your love in your arms for as long as you can.
Enjoy a Romantic Movie
Sometimes making dinner is too complicated or takes too long. Don't feel like you have to cook dinner to have a romantic evening. For a more casual time, make some popcorn and watch movies at home. Save the action films or sad dramas for another time, romantic comedies are the domain of a romantic evening.
Sit by the Fire
If you have a fireplace, get a fire going and cuddle up together on a blanket by the fire. Feed each other some chocolates or fruit, and simply enjoy being in each other's presence.
Enjoy Some Wine
If you and your significant other are wine lovers, you may want to head out to the store and buy some of your favorite wines, as well as some new ones you've wanted to try. Pass by the grocery store and buy a variety of cheeses. At home, drape a tablecloth on your kitchen table, set up some candles, play some soft romantic music, and sample the different wines and cheeses you picked up earlier.
A Backyard Getaway
During the spring and summer nights, it's always nice to step outside to look at the stars, listen to the wildlife and just take a moment to realize that it's just the two of you in this great big world. You can enhance this experience by putting up some tiki torches, lighting candles or making a fire in a fire pit. Play some music inside your house, and turn the volume up enough so you can hear it outside, or bring a portable device outside. You can even buy some flowers to decorate your deck or patio.
Take a Bath Together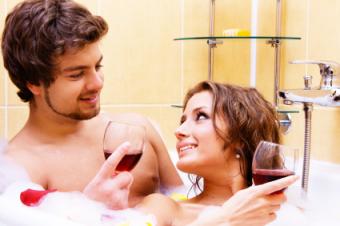 If you are lucky enough to have a large bathtub, schedule a bath night the two of you can share. This can be the main event of your evening, or use it before or after other romantic play.
Share a Massage
Everyone likes to receive a massage, but many people skip over this experience during intimate times. That's why it's a good romantic evening idea to make massage the focus. Set up the bedroom with music and proper lighting, and have some massage oils available. Enjoy this intimate and relaxing experience with your partner.
Recreate the Honeymoon Suite
Just because it has been years since your honeymoon doesn't mean you shouldn't have what you did when you first married. Throw rose petals all over the bed and on the floor. Fill the room with candles, and put a bottle of champagne on ice. Turn on your CD player, and put in a love song CD. Now you are ready to celebrate the love you have for one another.
Just Relax
You can put a lot of work into a romantic evening, but you don't always have to. To relax completely with your partner, how about doing nothing at all? Just lay down on the bed or the couch together, listen to music, talk, cuddle, read poetry together, etc. Just being near each other is often romantic enough.
Enjoying a Romantic Night Out
A romantic evening out can include a grand gesture like going to an expensive hotel, but you might also choose someplace simple and cozy to spend some quality time together.
Sunset Hiking
In the summer months when the sun goes down later in the day, take your mate on a hike with wonderful views of the sunset. If there's time, pack a bag with picnic items so you can relax once you get to your sunset destination.
Get a Hotel Room
Sometimes the best way to relax is to change your scenery. Staying in a hotel for an evening or a weekend provides a great way to forget your problems and focus on yourself and your partner. You don't need to travel very far. For an enhanced romantic experience, stay at a nice bed and breakfast or find a room that has a Jacuzzi tub.
Rent a Limo
Limos are for more than just prom and wedding nights. You can celebrate an anniversary or a birthday with a limo as well. Since the limo will be the focus of your evening, you'll be able to really enjoy the ride.
Go for a Walk
Walking, or just being being outdoors in general, can be surprising romantic. The key is picking the right time and place. Near sunset is probably the most romantic. The beach is a great place to walk, but a park or local neighborhoods are good as well.
Go to a Coffee Shop
Instead of going to the regular chain coffee shops, find a local and unique shop in your area. Some places will even have live music on Friday or Saturday nights for the two of you to enjoy.
Dress Up and Go Out
You and your sweetheart probably go out on the town frequently, but how often do you really dress up? Putting on your finest clothes can spice up the same old hangouts. Add to the adventure by trying a new restaurant or doing something new like viewing an opera.
Joyride Adventure
Rent a luxurious car, maybe one with a convertible top, and plan a route that has beautiful views. During the fall, you can take a ride to see the colors of the changing leaves. In the winter, you can drive to see snowcapped mountains. In the spring, you can visit meadows of wildflowers or botanical gardens, and in the summer months, take a cruise along the beach front.
Try Them All
Variety is the spice of life, so use it to spice up your love life too. Break out of your comfort zone and try something new with your sweetheart. You'll have fun, and it will keep your relationship going strong.