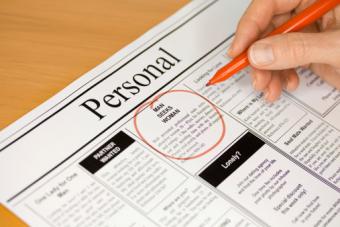 Although full online dating sites have become more popular, there are still a number of places where you can find and place personal ads. Placing a personal ad is easy. You just need a little know-how for finding the best sites and using the right lingo.
Find a Site to Place Your Personal Ad
Where you place your ad is as important as what you write. Go to the site and check out the profiles of the people that are there. Decide if you prefer profiles to have photos or if you're willing to post and answer an ad that doesn't have a photo. Sites with photos are more common than sites without. A few places you may want to try include:
Sign Up
All the sites are a little different but they all require you to sign up and make an account. To make an account, you must create a username and password, as well as provide a valid email. Put a little thought into your username as this is the name people will see when looking at your profile. Make sure your username portrays what you want it to. Some sites also require you to provide additional information, such as:
Gender
Birthdate
Zip code
The gender you'd like to meet
The age range of the person you'd like to meet
The type of relationship you are seeking (friendship, dating, long-term)
Your profession
Your religion
Your educational level
If you want children
Photo Sites
Photo sites allow you to write a brief description of yourself and upload one or more photos.
Write Your Description
Your description is going to be short, so make every word count. Things to focus on when writing your description include:
Focus on your strengths but be honest. There's no need to talk about all of your faults but don't exaggerate your strengths, either.
Talk about your hobbies. This gives people an idea of what you like to do and who you are.
Show who you are, rather than telling who you are. For example, if you like to have fun, write your description in a fun way.
Be honest about everything. If you meet in person, you don't want to have to confess anything you lied about.
Add whatever is the most important to you. This allows other people to see your priorities.
Upload a Photo (or Two)
Photo sites allow you to upload at least one photo. Make sure you pick a good one! This is the first impression you're going to make. Make sure your photo:
Shows you smiling - People respond more positively to people who are smiling.
Isn't blurry - People want to be able to see what you look like.
Is only of you - People don't want to guess which person in the photo is you.
Is a close-up of your face - Your face is what someone will look at most. However, if you can add more than one photo, add a full-body shot.
Non-Photo Sites
There are also sites that don't use photos and are written in a more traditional personal ad style.
Classified Ads allows you to search by location. Even though photos aren't available on the initial page, if someone clicks on your ad, he will be directed to a larger personal profile that allows you to upload pictures and write a much longer self-description.
Craigslist is one of the most popular sites for advertising anything and one of the first to come to mind for many looking for personal ads. It's a 'must' in terms of getting your profile viewed.
Write Your Ad
When writing a personal ad for a non-photo site, you'll want to include the following information:
Your age
Your ethnicity
What you are looking for, including:

Age range
Ethnicity, (if relevant)
Any other characteristic that is important to you (For example: NS (non-smoker) a must!)
Any characteristic that's ok with you (For example: K (kids) ok)
Understand the Lingo
When writing (or reading) a personal ad, you'll need to understand the abbreviations frequently used. While there is a full list of acronyms that you'll want to know, below are a few examples:
S = Single
M = Married or Male - depending on the context
D = Divorced
F = Female
BI = Bisexual
G = Gay
L = Lesbian
W = White or Widowed - depending on the context
B = Black
H = Hispanic
A = Asian
J = Jewish
C = Christian or Catholic
P = Professional
NS = Non-smoking
ISO = In search of
LTR = Long-term relationship
Examples
SWF, 44, 5'8", 150, ISO SWM, 45-55 for LTR. (Single, white female, 44 years old, 5'8" tall, 150 lbs, in search of single, white male between the ages of 45 and 55 for long-term relationship.) Two teens, educated, professional, looking to make my life more exciting. Let's go eat Mexican or lay on a beach.
SBF, 25, 5'4", 125, ISO SM, 25-30, for F, poss dating. (Single, black female, 25 years old, 5'4" tall, 125 lbs. in search of single male between the ages of 25 and 30 for friendship, possibly dating.) In grad school, working, hard to find new friends. Love Dean Koontz and Stephen King. Wanna share a book and coffee?
Print
Good, old-fashioned print personal ads are also available in magazines. Although some newspapers still print personal ads, it's pretty rare.
Choose the Magazine
If you're looking for a magazine personal ad, you'll have three options to choose from:
A local publication will increase the likelihood of meeting someone in your area. Look in local stores for free local magazines for an idea of what's available.
A nationwide publication will increase the likelihood of meeting someone but not necessarily in your area.
There are publications containing only personal ads catered toward different populations (for example, Christians, singles in certain areas, professionals, divorced, even vegetarians).
Place Your Ad
Once you choose the magazine, you'll want to place your ad. Print ads charge per word so consider your words carefully. To place an ad in a magazine, call the number in the classified section and dictate your ad over the phone. You may also be able to go to the magazine's website and type your ad exactly how you'd like it to appear.
Don't Discount Personal Ads
With the popularity of online dating sites, personal ads aren't the rage they were 15 years ago. However, don't count them out just yet. There are still thousands of sites and magazines running personal ads every day. They're quick, easy and many are free. Don't pass a personal ad by; you never know where you'll find your soul mate.