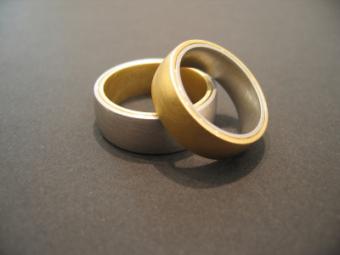 Using matchmaking services sounds kind of old-fashioned, but in reality a lot of the dating websites out there today have some component of matchmaking to them. Matchmakers gather information about prospective suitors, and suggest people you should meet. The main difference between matchmaking services and an online dating service is that when you're online dating, you are the one making a choice as to who you will talk to. When you use a matchmaker, that person chooses who she thinks will be a good match for you.
Pros of Matchmaking
Dealing with a matchmaking service is much more personalized than using a dating service. Matchmakers have a vested interest in your success. They are selective about the people they will accept, and usually accept new clients based on whether they think they already have a match among their existing clients. They devote exclusive and personalized attention to help you find the right person.
They work hard to match people who are compatible, so you won't waste your time looking through online ads for people you would never be attracted to, and usually, you won't waste your time going out with people you can't possibly click with. This can speed up the process of finding your true love and make it a lot less frustrating.
Choosing a Matchmaker
As in any field of business, bad matchmaking services exist. Comparison shop among your choices to make the most of your opportunity. During your initial assessment of the service, consider the following questions.
How does the matchmaker make you feel?
Is there a lot of pressure for you to sign up?
Does the price seem really high?
What do you get for your money?
Choosing the right matchmaking service should be based on a combination of value for your money, and the way the people make you feel. You need to trust them to help you make one of the biggest decisions of your life, so don't make your choice hastily.
Online Matchmaking Services
Don't eliminate the potential of online services. Traditional matchmakers with an online presence such as Samantha's Table or Janis Spindel usually cater to high-end clients. These services involve an application or interview process, and then the matchmaker will look through her database to find people you are likely to hit it off with.
What to Expect
When you sign up for a matchmaker service, you will go through a series of steps to find your ideal match. Knowing what to expect can help you make your choice.
Register and send a photo to the company.
A matchmaker contacts you to do an extensive interview.
The matchmaker learns more about your likes and dislikes as well as what kind of person you are.
You may have ongoing discussions regarding your likes and dislikes, particularly if a date didn't go well.
After the matchmaker has gone through the data that you have provided, you will be sent matches, either to a website that you can sign into or via e-mail, depending on the service. You can either accept or decline the match. If you decline the match, expect to explain why you are declining, so the matchmaker can give you better picks in the future.
Find a Matchmaker in Your City
Before you can assess whether a matchmaker is right for you, you have to find one. Locating a matchmaker in your city is straightforward as many professional matchmakers are technologically savvy.
Perform a comprehensive search via with the search terms "matchmaking," "professional matchmaker" and the name of your city.
Review the relevant results
Check the results against your city's Better Business Bureau for reports of dodgy activity
Narrow the search based on any specifics important to you (religion, sexual orientation, financial concerns)
Compare price, services, and focus of the matchmaker's business model and offerings
Contact via email or phone the top three choices on your list
Ask any questions you have and verify pricing, failure to disclose should eliminate this matchmaker from your list
Learn about how the matchmaker works, eliminate any who use aggressive selling tactics to force you to sign up for the service
Schedule face-to-face interviews with the ones that pass all the earlier steps
Meeting a Matchmaker
Remember when you meet with a matchmaker, it is an opportunity to learn about each other. If you don't feel comfortable with the individual, do not hire them. A matchmaker will become very involved in your personal life and will ask invasive questions you may not be comfortable with, so you have to be able to trust they are a good fit for your needs.